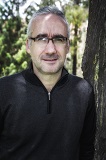 Dr. Carlos del Burgo Díaz
Investigador Titular B


CORREO ELECTRÓNICO:cburgo@inaoep.mx

EXTENSIÓN: 2312
Información Curricular:

Doctorado
Física, Universidad de La Laguna, España, 2000.
Licenciatura
Física, Universidad Complutense de Madrid, España, 1994.
LÍNEAS DE INVESTIGACIÓN:
Espectroscopia bidimensional de las regiones circumnucleares de galaxias: cinemática y poblaciones estelares

Formación y evolución galáctica

Caracterización de enanas M y estrellas de tipo solar

Búsqueda de planetas extrasolares

Propiedades del medio interestelar; polvo cósmico

Discos de escombros

Desarrollo de instrumentación
PROYECTOS:
"Caracterización de sistemas planetarios" (proyecto de Ciencia Básica de CONACYT CB-2012–183007). Participación: Investigador Principal (IP) del proyecto.

PHASES: Planet Hunting and Asteroseismology Explorer Spectrophotometer. Participación: IP del proyecto.

NAHUAL (http://www.ucm.es/info/Astrof/nahual/): a project to develop an echelle spectrograph for the 10.4m GTC telescope. Participación: co-IP y Gestor científico ("Project Scientist") del proyecto.

CARMENES (http://www.ucm.es/info/Astrof/carmenes/): Calar Alto high Resolution search for M dwarfs with Exo-earths with a Near-infrared Echelle Spectrograph. Participación: Miembro del equipo del proyecto.

DUNES (http://www.mpia-hd.mpg.de/DUNES/): DUst around Nearby Stars. Programa Clave de Tiempo Abierto de Herschel. Participación: co-I.

FOGO: Fossil groups. Proyecto de tiempo internacional del Observatorio del Roque de Los Muchachos (La Palma, España). Participación: co-I.

Coma Cluster Hubble Space Telescope Treasury Survey: estudio de la dinámica y la población en Coma (http://astronomy.swin.edu.au/coma/project-overview.htm). Participación: colaborador del equipo científico.
TESIS DIRIGIDAS:

Doctorado:
"Mechanical Support Structure for PHASES", D. Vather (Dublin Institute of Technology, DIT, Irlanda), (2009-).

"Modeling of Energy Distributions of Cool Dwarfs in the Optical and Near-Infrared", M. Kuznetsov (INAOE) (2013-).

Maestría:
"Simultaneous fitting of light curves and radial velocity data for transiting systems", J. G. Ahuatzi Reyes (INAOE), (2014).

"Investigating exoplanet atmospheres by simulating transmission spectroscopy", I. Fontaine (U. Hertfordshire, Reino Unido) (2013).

"The Kepler-9 system: An active spotted star with transiting planets", C. Vilela (U. Hertfordshire, Reino Unido), (2012).
Consultor externo de la tesis doctoral:
"Periodic Variability of M Dwarfs in the Near-Infrared", N. Goulding, U. Hertfordshire, Reino Unido, (2013).
Consultor externo de la maestria:
"Laboratory characterisation of the Limitations Imposed by Satellite Jitter on the Detection of Transiting Exoplanets", T. Brennan (U. Galway, Irlanda) (2011).
PUBLICACIONES RECIENTES:
del Burgo C., Allende Prieto C., "Accurate parameters for HD 209458 and its planet from HST spectrophotometry", 2016, MNRAS, 463, 1400-1408
Allende Prieto C., del Burgo C., "New bright optical spectro- photometric standards: A-type stars from the STIS Next Generation Spectral Library", 2016, MNRAS, 455, 3864-3870
Zarattini S., Girardi M., Aguerri J. A. L., Boschin W., Barrena R., del Burgo C., Castro-Rodriguez N., Corsini E. M., D'Onghia E., Kundert A., Méndez-Abreu J., Sánchez-Janssen R., "Fossil Group Origins VII. Galaxy substructures in fossil systems", 2016, A&A, 586, 63 (14 págs.)
del Burgo C., Allende Prieto C., Peacocke T., "PHASES: a concept for a satellite-borne ultra-precise spectrophotometer", 2010, JINST, 5, 1006.
del Burgo C., Martín E. L., Zapatero-Osorio M. R., Hauschildt P., "Physical parameters of T dwarfs derived from high-resolution near-infrared spectra", 2009, A&A, 501,1059.